Work is getting underway in Greater Charlotte, North Carolina, as GAF supports Habitat for Humanity with the 2023 Jimmy and Rosalynn Carter Work Project. The five-day build event began in 1984 when former President Jimmy Carter and former first lady Rosalyn Carter led a group of Habitat for Humanity volunteers to New York, building alongside 19 families in need of safe, affordable housing. For 36 years, the Carters have worked side by side with professional builders and volunteers at locations around the world to build and raise awareness of affordable housing.
From October 1st - 6th, more than 750 volunteers will cooperatively build 27 safe, affordable homes in Charlotte, where the homeownership rate of 26% falls far below the county average of 57%. A strong contingent of GAF team members will comprise the volunteer workforce, and the company is lending support in several other ways.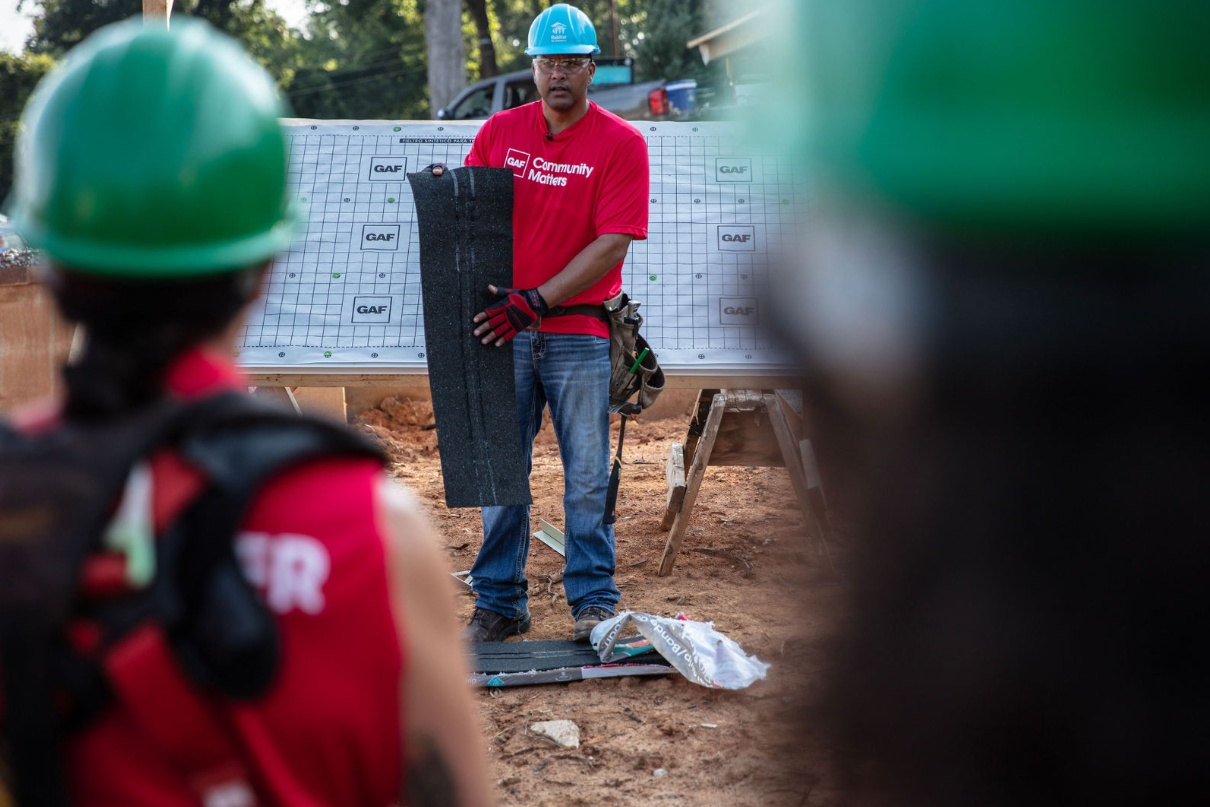 Working Together to Build Better Communities
Since 2011, GAF has proudly partnered with Habitat for Humanity. For the 2023 Carter Work Project, GAF donated the roofing materials for all the homes built, offered training prior to the event, and will provide leadership while the work is being completed.
"We're focused on helping build more resilient communities, by making workforces, affordable homes, and ultimately families more resilient," says Jeff Terry, GAF vice president of corporate social responsibility and sustainability.
The Carter Work Project has touched thousands of lives over the last few decades and means so much to all involved. "To know that we're making a small dent in the housing affordability crisis is something very near and dear to my heart," Hailey Von Dross, youth and young adult engagement coordinator for Habitat for Humanity of Charlotte, shared at a recent training session in Charlotte.
Helping Leaders Grow While Doing Good
In July, the high heat was no match for the great attitudes at the two-day, hands-on, on-the-roof training hosted by GAF CARE (Center for Advancement of Roofing Excellence) to prepare for October's construction work. The house and crew leaders who attended the GAF CARE training will use the roofing skills they learned to guide Carter Work Project volunteers and workers in proper shingle installation.
Training these building leaders was a "really exciting opportunity" for the GAF CARE team, says Terry. "It ultimately gives them the tools to make these homes more resilient for the partner families who will be working alongside all of us and ultimately getting the keys to these homes."
The GAF CARE training can also help shape future community leaders. Rachel Hurst, an AmeriCorps volunteer working with Habitat for Humanity, says, "GAF is here helping us learn the proper way to shingle a roof. It's actually really cool. It's really rewarding and shows volunteers that they have the ability to create something."
The transformative power of these homes should not be underestimated. For example, Adam Hunter, new construction field manager for Habitat for Humanity of Charlotte, took a break from the GAF CARE training to reflect on his own journey with Habitat for Humanity. When he was five years old, his family bought a Habitat for Humanity home.
"That is still our family home," Hunter shares. "It's still the home we go home to every Christmas." Now, decades later, while helping prepare for the October 2023 build, he says, "When I look around, I see not only the work that's being done today, but I see the path that these new homes can set these families on."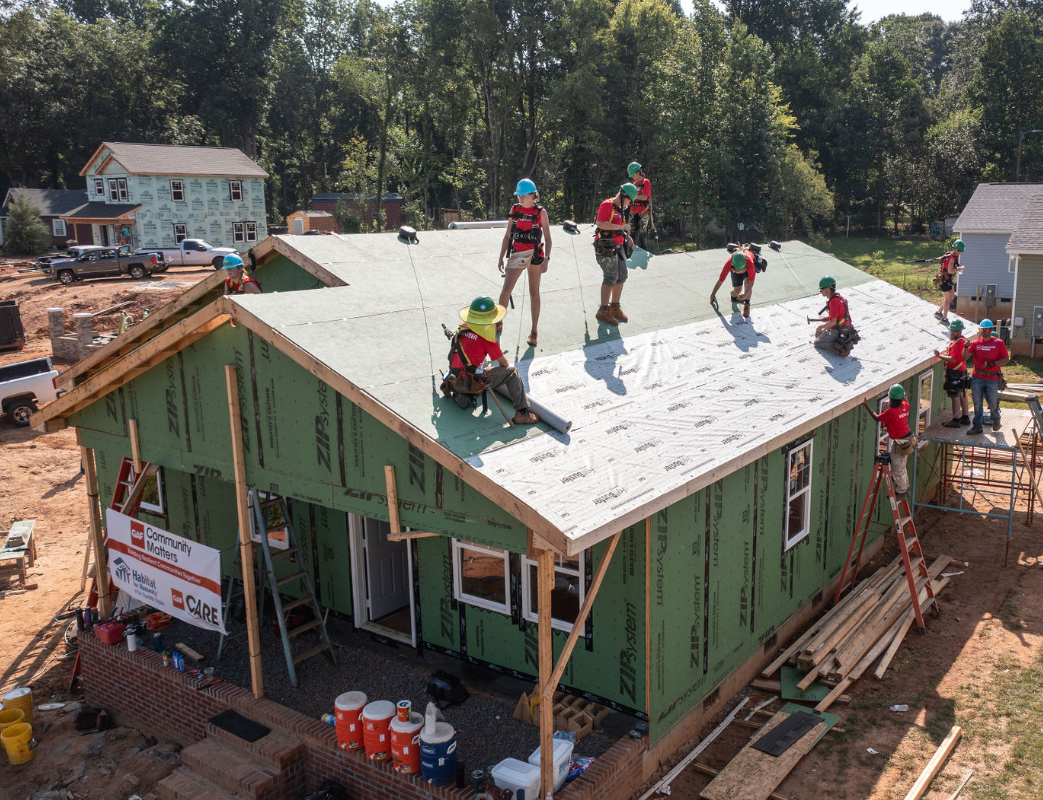 Honoring the Carters' Legacy of Service and Shelter
The 2023 Carter Work Project is particularly exciting, as construction is kicking off after a three-year hiatus between 2019 and 2022 due to the pandemic. This year's event also honors Jimmy and Rosalynn Carter, as it is the first project the couple won't participate in after retiring in 2019, following decades of humanitarian global service.
Country music super-stars Garth Brooks and Trisha Yearwood will host the build event in Charlotte—while also celebrating their 13th year working on the Carter Work Project.
Whether celebrities or volunteers, everyone is equal as they gather for this great event. The GAF CARE training is just one of many contributions from all those involved with the goal of building more resilient families and communities. That's why GAF is proud to support the Carter Work Project year after year.
"A good roof system means that a homeowner won't have to worry," Von Dross noted during the roofing training event in July. "It's quite literally a roof over their head, and we're making sure that roof will be strong and durable and won't leak."
Getting Involved and Making a Difference
While preparations are currently underway for the 2023 Carter Work Project, it's never too late to partner with your local Habitat for Humanity affiliate and support building safe and secure homes in partnership with families in your community. The GAF Habitat for Humanity Program works year-round to improve affordable housing and community resiliency. As part of the program, GAF Master Elite® and GAF Certified™ Contractors* donate their time and services to install GAF roofing materials donated by the company (complete with a GAF System Plus Ltd. Warranty).
To learn more about how GAF is building resilient communities, read about their Community Matters initiative. There's always an opportunity to give back and help improve the quality of life of others—and as the Carters know, every bit helps.
*Contractors enrolled in GAF certification programs are not employees or agents of GAF, and GAF does not control or otherwise supervise these independent businesses. Contractors may receive benefits, such as loyalty rewards points and discounts on marketing tools from GAF for participating in the program and offering GAF enhanced warranties, which require the use of a minimum amount of GAF products. Your dealings with a Contractor, and any services they provide to you, are subject to the GAF Contractor Terms of Use.