Critically acclaimed actor — with a roofing industry background — Anthony Mackie has teamed up with GAF and their Community Matters initiative to help rebuild Gulf Region roofs hit by extreme weather.
Building a Heroic Partnership
Anthony Mackie is world-famous for his portrayal of Sam Wilson as Falcon and Captain America in the Marvel Cinematic Universe, but his heroism isn't limited to the silver screen. His newest superhero task includes partnering with GAF to put roofs on vulnerable Gulf Region homes. This initiative — part of GAF's $25 million commitment through 2025 to help build more resilient communities — aims to rebuild or repair 500 roofs damaged by natural disasters in the Gulf Region.
Fittingly, the collaboration kicked off with 150 roofs in Mackie's hometown of New Orleans.
Returning to Mackie's Roofing Roots
As a New Orleans native raised by a family of roofers, Mackie's partnership with GAF's Community Matters was a natural fit. Raised in Gentilly, a blue-collar neighborhood in the city's 7th Ward, Mackie learned by example about the importance of helping neighbors in need. He saw family lend a hand when elderly neighbors needed home repairs and he spent his teenage summers working for his uncle and dad at Mackie One Construction, which has been a trusted supplier of roofing services in the area for over 50 years — since its founding in 1965 when Hurricane Betsy caused dramatic storm-surge damage across the city. With the GAF partnership, Mackie not only returns to his roofing roots but also hopes to help build up the communal sense of "neighbors helping neighbors" that was a feature of his youth.
Helping a Community in Need
New Orleans is a vibrant, world-renowned city but it also contends with longstanding poverty. Many residents lack the resources to repair or rebuild a storm-damaged roof after a natural disaster. Blue tarps, meant to be a short-term roofing solution, are instead the long-term reality for many families. This solution can actually be destructive since, over time, tarping perpetuates home damage by increasing a roof's vulnerability to future storms. Together, natural disasters, poverty, and short-term "fixes" only compound the threats to families' housing security.
In the 7th Ward where Mackie grew up, such blue tarps ominously dot the landscape. Because of this, Mackie was excited by the opportunity to join forces with GAF to help his neighbors protect the foundations of their homes. Repairing and rebuilding roofs in tandem with GAF lets Mackie give back to his neighborhood in the way his parents raised him — helping out on the roof.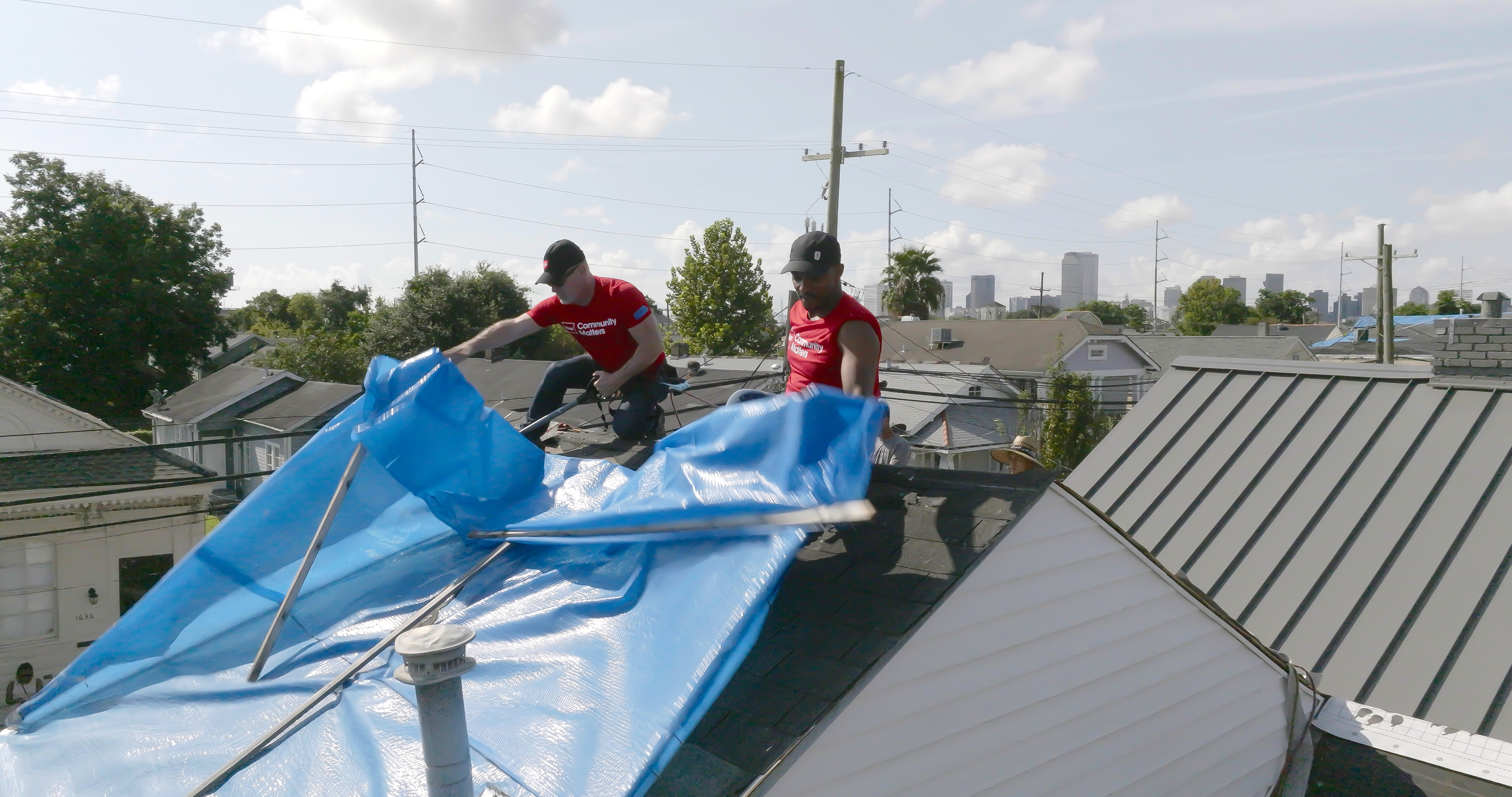 Being Ready for Future Extreme Storms
New Orleans and the Gulf Coast are regularly ravaged by storms — which can change lives in an instant. The GAF Community Matters effort will help protect some of the region's most vulnerable residents while boosting the ability of these neighborhoods to develop more resilience for when the next storm hits.
For Mackie, the impact that severe storms have had on his life is a driving force behind his participation. His dad passed away as a result of Hurricane Katrina and his father's pride and joy, his handbuilt home, was damaged when Hurricane Katrina storm waters breached the levy in his backyard. Then, Mackie's own home was impacted by disaster during Hurricane Ida — he learned it had been damaged from the news. So he understands the importance of doing all that's possible to protect a home against natural disasters.
Training the Next Generation of Roofers
After a storm, communities need time and resources to recover. Without roofers, though, even those with the financial means to schedule a repair may be stuck with a tarped roof for months, even years. Mackie himself had to wait a full year after Hurricane Ida before his storm-damaged roof could be replaced. This dire need for trained roofers was another reason the GAF Community Matters initiative struck a chord with Mackie.
The initiative provides essential roofing skills training for locals through the GAF Roofing Academy to members of the community. This means an immediate increase in the number of people with skills to help rebuild, ensuring more trained roofers become available in the regions that need them most. For Mackie, the long-term aspect is fundamental: access to good wages for skilled, reliable work in an essential trade helps residents to feed their families and take care of their homes.
Promoting Gulf Region Resilience
When he was young, Mackie's parents — and his experiences in the roofing trade — taught him about resilience and hard work. New Orleans itself is a shining example of both of these qualities in the face of repeated natural disasters. But the setbacks have been severe. Roughly 10,000 families are still displaced one year after Hurricane Ida and 26% of homes in the 7th Ward are still vacant nearly 20 years after Hurricane Katrina. But still, the heart of New Orleans keeps beating.
Maybe it's the gumbo, maybe it's the music, but the truth for Mackie is that there's no place like home. And what he sees for this initiative is a way to empower those that call the Gulf Region home by helping strengthen their communities through infrastructure, job training, and resources. By leading the way with community service and action, Roof Raiser Anthony Mackie is not only helping residents to shield themselves against natural disasters, but also to approach the long-term future with increasing confidence, prosperity, and resilience.
Want to learn more about the Community Matters initiative? Visit gaf.com/communitymatters for more information on how GAF and Anthony Mackie are teaming up to help communities and improve resilience.