GAF Community Matters is hard at work building resilient communities. As part of a $25 million commitment through 2025, GAF has teamed up with nonprofits, partnered with renowned actor Anthony Mackie, and put an increasing emphasis on sustainability and resilience in natural disaster relief efforts.
"For too long, disaster response has prioritized short-term support over long-term relief," explains Andy Hilton, Chief Communications Officer and head of Corporate Social Responsibility at GAF. "There's a flurry of activity in the days after a major weather event — national media attention, heroic rescue efforts, and a flood of short-term fixes like blue tarps on damaged roofs. But what happens in the months and years after?"
Short-term rebuilding after a devastating storm is critical. "But we also want to prepare people and the community for the next storm," says Hilton. "That's where GAF Community Matters comes in to play. By leveraging GAF expertise, resources, and products in partnerships with regional non-profits, GAF is strengthening shelters and establishing a workforce to positively impact communities for generations to come."
Reversing the Downward Spiral
Building resilient communities is essential. The impact of extreme weather lingers — and can even worsen — long after a storm has left town. When families don't have the means to take on crucial home repairs, they can fall into financial holes that keep getting bigger. Even for those with sufficient financial resources, the local workforce may not be able to meet repair demands after a disaster, affecting thousands. And, in situations like these, peoples' homes continue to degrade over years — which negatively affects all aspects of the community. To top it all off, the devastating storms don't stop coming.
Without a roof, families can't resolve other problems with their homes. "Plus, an unsafe shelter impacts a family's ability to work, provide, go to school, etc.," Hilton explains.
An unsafe shelter affects not only a family's immediate life circumstances but also their ability to earn in the future, including opportunities for the next generation. When hundreds of homes experience this in a community, it can create a downward spiral that may become permanent.
"There's no greater example of this than the blue tarps in New Orleans," says Hilton. Due to a lack of a roofing workforce or financial resources, blue tarps — the much-needed short-term fix — have become many Gulf Region families' long-term roofing solution. Unfortunately, blue tarps aren't meant to be long-term and often leave families and their homes at the mercy of the elements.
GAF Community Matters aims to address this spiral: "The goal is to build resilient communities so there's less need for things like blue tarps," says Hilton.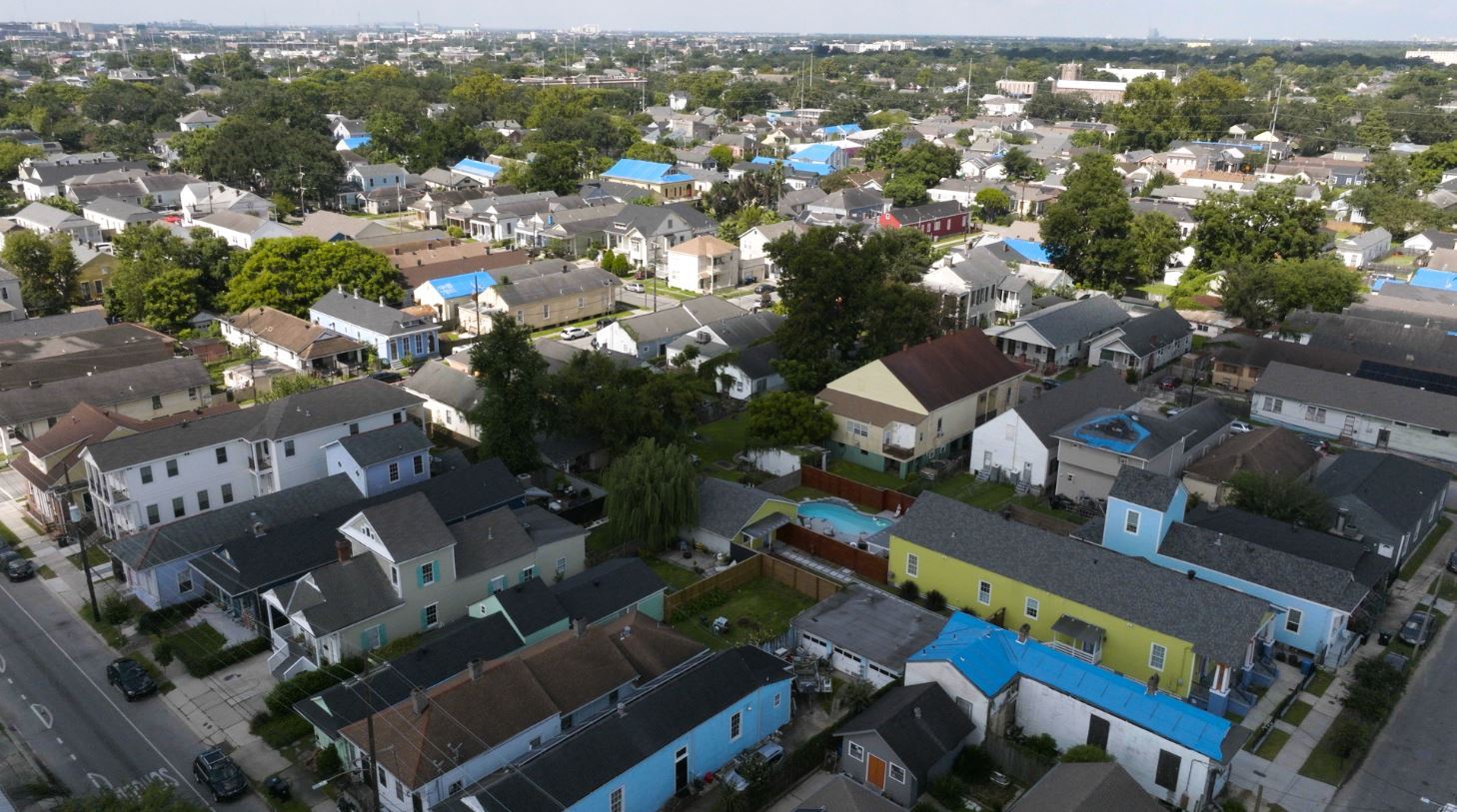 Leveraging Partnerships for the Long-Term
To achieve this resilience, GAF partners with "organizations that not only share our common goals but that are also part of the communities we're going to serve." These on-the-ground connections bring granular local knowledge that helps GAF identify "the best overlap with our expertise and resources," along with the long-term community commitment and locally focused thinking that can build truly lasting change.
A Partnership in Action
Rebuilding Together New Orleans is one of the driving forces of GAF's commitment in the city's 7th ward. A year after Hurricane Ida, approximately 10,000 families are still displaced and an estimated 26% of homes in the 7th ward remain uninhabited more than 17 years after Hurricane Katrina.
Rebuilding Together New Orleans, the local chapter of the national nonprofit, "deeply understands the needs of the New Orleans community and how GAF's efforts can best support the city with our efforts," explains Hilton.
A Multi-Pronged Approach
GAF has committed to rebuilding or repairing 500 Gulf region roofs with the support of local nonprofit partners. Thanks to partnerships with Rebuilding Together New Orleans, SBP, Good360, Habitat for Humanity, and Team Rubicon, this work is well underway and kicked off with 150 roofs in the hard-hit 7th ward of New Orleans. GAF has also teamed up with world-famous New Orleans native— Anthony Mackie, the Marvel Cinematic Universe's new Captain America —to help rebuild communities repeatedly hit by natural disasters.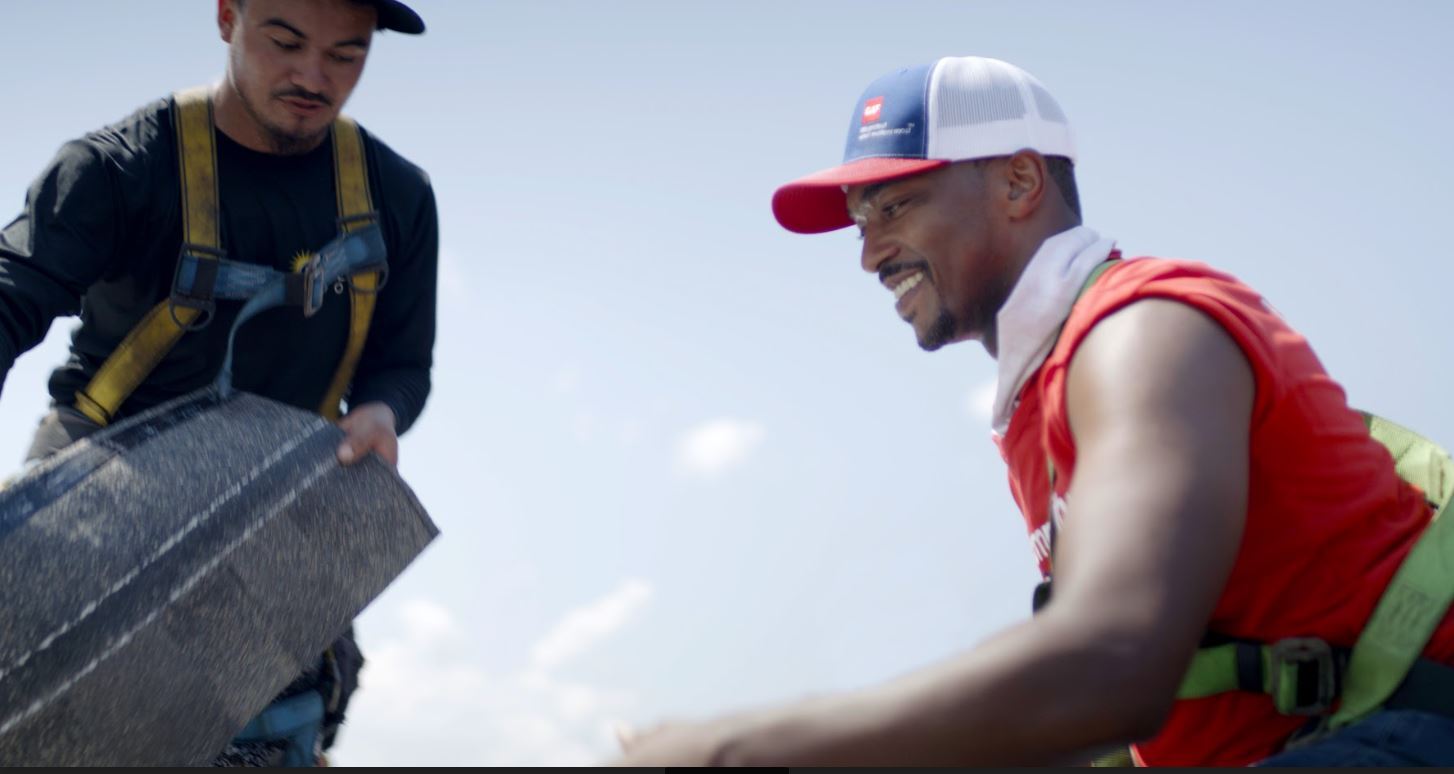 Anthony is a lifelong resident of New Orleans and grew up in close proximity to some of the homes being repaired in the 7th ward. As such, he is well aware of the issues facing this community. The son of a roofer, Anthony also knows the importance of having good-paying work and a solid roof over your head.
Alliances between local nonprofit partnerships and the GAF Roofing Academy, "will help train community members in roofing skills. Then we're going to work with those trainees, as well as local roofing contractors, to support our rebuild efforts," says Hilton. This will help build community resilience through good jobs and a skilled workforce.
Investing in shelters, families, and the workforce can help New Orleans bounce back after a natural disaster. As Hilton explains, "The more we do to build resiliency now, the more we can help withstand future crises and issues, so that — in another year — we're not looking at blue tarps again."
Getting Involved
Learn about GAF and their Community Matters initiative at gaf.com/communitymatters. If you're a roofing professional looking for information on the Community Contractor Program, which pairs GAF certified contractors* with GAF product donations to build roofs for those in need, contact your local Territory Manager.